La Pared powered by Playitas
A tailored website solution for a sports and surf hotel
Discover how the VUCX web development team created a conversion-driven tourism website for La Pared powered by Playitas using WordPress and customized website programming.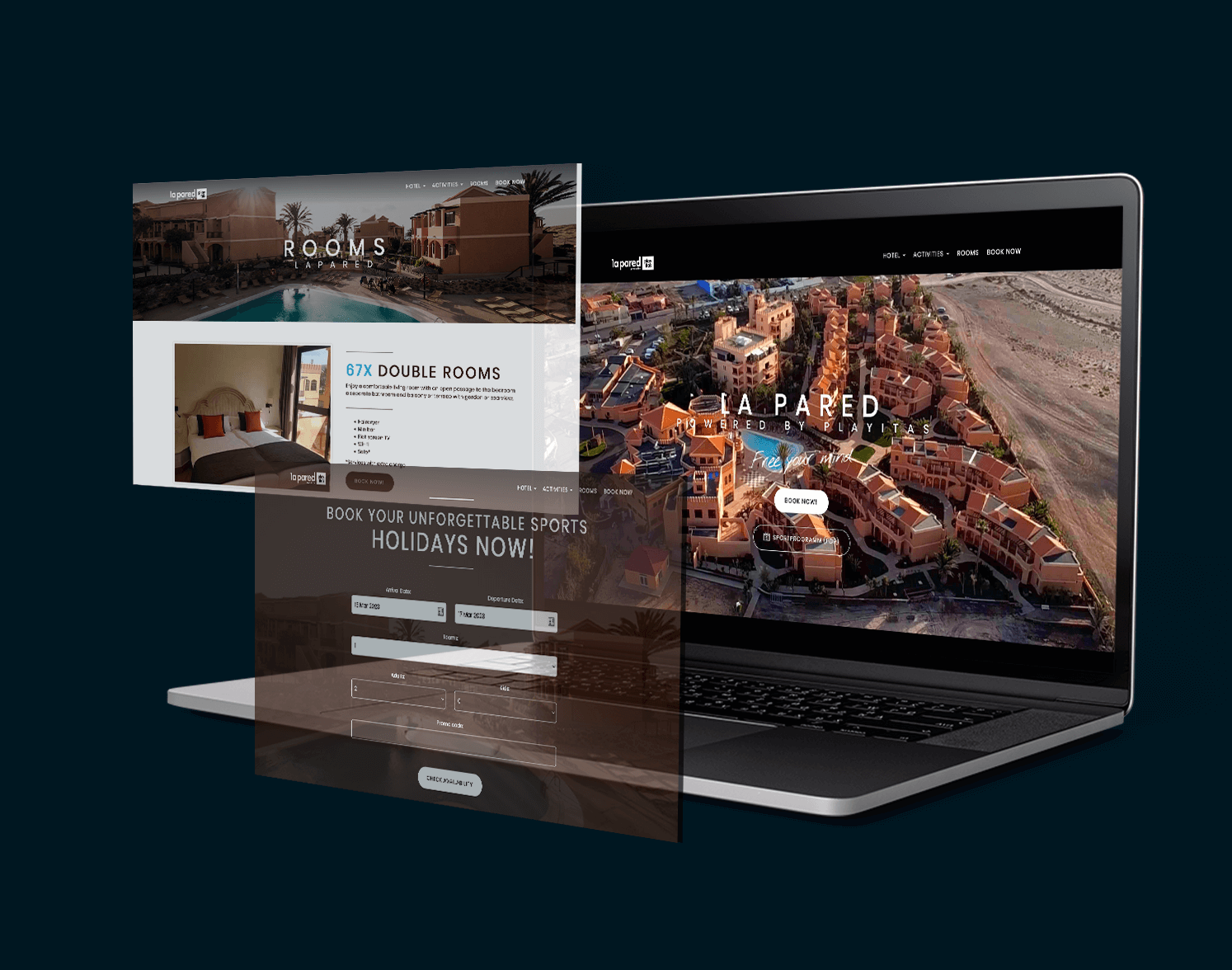 Services:
# UX / UI Design
# Webdesign Agentur
# Text & Redaktion
# Frontend Programmierung
# Content Management Systeme
# Backend Programmierung
# Web Apps
# E-Commerce
# SEO / SEA
When VUCX was tasked with developing a website for La Pared powered by Playitas, we knew we had to create something special.
La Pared is a sports and surf hotel located on the wild southwest coast of Fuerteventura, only 380 meters away from the golden sands of La Pared, an internationally renowned spot for surfers and other sports enthusiasts.
Our goal was to provide visitors with a seamless digital experience to explore all that La Pared has to offer.
Our first challenge was to quickly build an initial website using WordPress that could showcase La Pared's unique features and offerings.
However, we soon realized that WordPress was not the best solution for this project. We wanted to incorporate video sequences as an emotional hook on the homepage, but it was cumbersome to achieve with the then-current version of WordPress. Additionally, there were display issues on mobile Safari browsers. Through data analysis, we found that there was a significant number of users accessing the website on mobile devices using the Safari browser.
Therefore, we needed a customized website programming solution that allowed us to tailor the website precisely to the needs of La Pared's visitors.
Solutions with WordPress and customization
We developed a tailored website solution for La Pared powered by Playitas, starting with WordPress and then transitioning to custom programming.
The VUCX development team worked closely with the La Pared team to create a website that not only looked great but also provided visitors with a seamless user experience.
We also integrated features such as a booking system that enabled visitors to reserve and book their stay with just a few clicks.
Conversion-driven website for tourism
Thanks to our customized programming, La Pared now has a website that offers visitors an exceptional user experience for their sports and surf hotel stay.
The website has received enthusiastic reviews from visitors and has contributed to an increase in hotel bookings.
Our collaboration with La Pared continues to this day, and we continue to work on enhancing the digital experience for visitors.
Expert Tip | Ercin Filizli (Online Marketing Expert)
"It's a great example that good website development alone is not enough.
In the development of La Pared's website powered by Playitas, our client's primary focus was to create an unforgettable digital experience that flawlessly showcased the hotel's unparalleled offerings. While search engine optimization (SEO) plays a pivotal role in establishing a strong online presence, our client had yet to tap into its full potential.
Hence, we recommend approaching SEO optimization in tandem with website development, ensuring every aspect of your online presence captivates and entices your target audience."