Are you looking for a
social media agency

?
VUCX - the Social Media agency for your success
#vucxSocialMediaMarketing - from social media strategy to content production, community management, and social advertising.
Our social media experts are happy to help you.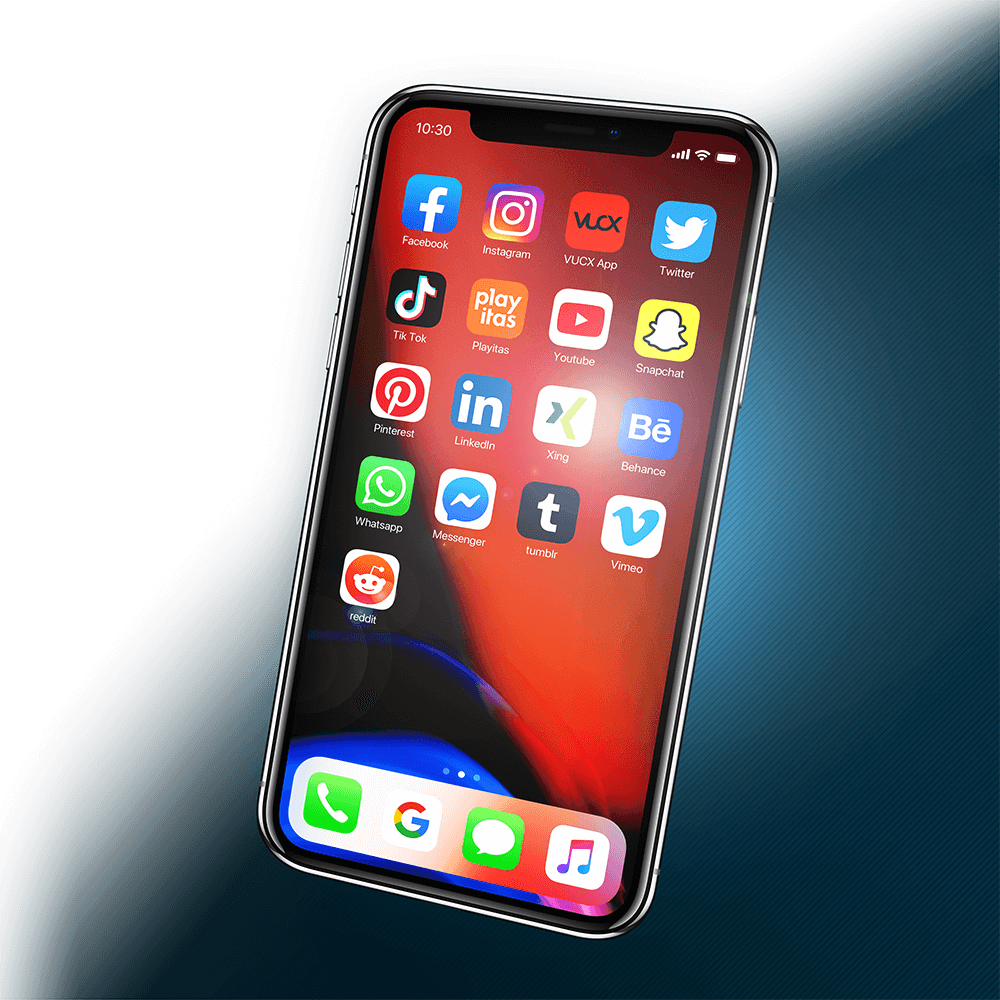 Social media is the key to success for your corporate communications
#vucxSocialMediaMarketing – from social media strategy to content production and community management to social advertising.
Today's customers are well-connected, informed, and organized online. The expectation for brands to position themselves publicly continues to rise. Representing an opinion, creating a positive impact, and communicating this openly have now, at the latest, emerged as the greatest challenge for value-oriented corporate communications in social networks.
At the same time, it is an opportunity to meet customers on a more personal and unadulterated level and to give your corporate culture and values space in social networks. After all, this is the only way to create a lasting bond between you as a company and your community. Social media thrives on interaction, connection, and exchange with others.
But how do you build the bridge between your company and the world on social networks? How can you as a company use these channels, where the focus is actually on personal contacts and interests? 
Social media is an integral part of the marketing toolbox
Reach, engagement rate & Co. - social media marketing has become an indispensable part of the marketing toolbox.
At VUCX, we see social media as an elementary component of a comprehensive marketing toolbox. Have you heard of the PESO model? PESO stands for Paid, Earned, Shared, and Owned Media and can increase communication success. How?
Learn more about the potential of this model in a personal conversation.
What potential does social media offer for your company?
What value propositions are anchored in your corporate philosophy? How are these lived out in the company? Do you give your experts a voice and show how your products are made?
All of this is just food for thought. Essentially, it's about giving your company a face. Transparency and credibility are two important factors here. As a company, you have the opportunity on social networks to build sustainable, value-based, and long-term customer relationships. Open the doors on the various platforms for exchange, provide insight into your company, capture the needs of your customers, and create creative and relevant content with us - social media creates the space for this.
How should a social media project be approached professionally?
Developing a customized social media strategy is a basic prerequisite for successful social media marketing.
The social media strategy is based on the strategic goals of your company. It gives them more attention because the ultimate goal is to attract the attention of your customers, to pick them up on all channels, and to create a good feeling, which initiates the next purchase decision.
What is Paid Social Media - placing ads on the social networks
Today, consumer attention is an important commodity and more hotly contested than ever. The social networks form a marketplace on which numerous retailers cavort. With so many offers, users quickly feel overwhelmed. He may leave the marketplace in frustration without having found anything.
As a company, you can reach your target group with paid ads and detailed targeting. An important prerequisite for this is campaign goals that align with the strategic business objectives. Customized advertising campaigns with a targeted approach give you visibility in your target group.
How to place your company on the first page on Google and how to place search engine advertising, you can learn on our page on the subject of search engine optimazation.
Paid ads have great potential if they are set up, managed and optimized correctly. They are measurable and lead to direct leads. We will be happy to advise you.
How do you gain relevance in your

target group

on social networks?
Create a dialogue space because that's the only way to learn about your customers' needs and desires and build relationships. Users expect value from the content!
You can find more information on this topic, the persona development in our services, and the context of brand strategy.
An overview of our services as a

social media agency

:
Social Media Strategy Development
Social Media Advertising
Community Management
Content production (text, video, photography, design)
Social media monitoring
Reputation management
Influencer marketing
We are happy to share our experience as a social media agency with you in a workshop, a training session, and a personal conversation.
Would you like to learn more about social media marketing? Contact us here via chat or give us a call: 0221-569780
Industry expertise
(B2B und B2C)
Industrial Internet of Things (IIoT)
Industry 4.0
Smart Home
Banking and insurance
Travel and tourism
Employer Branding
Human Resources
Cosmetics and Beauty
Beverages
Furniture
Living Interior
Mobility
Image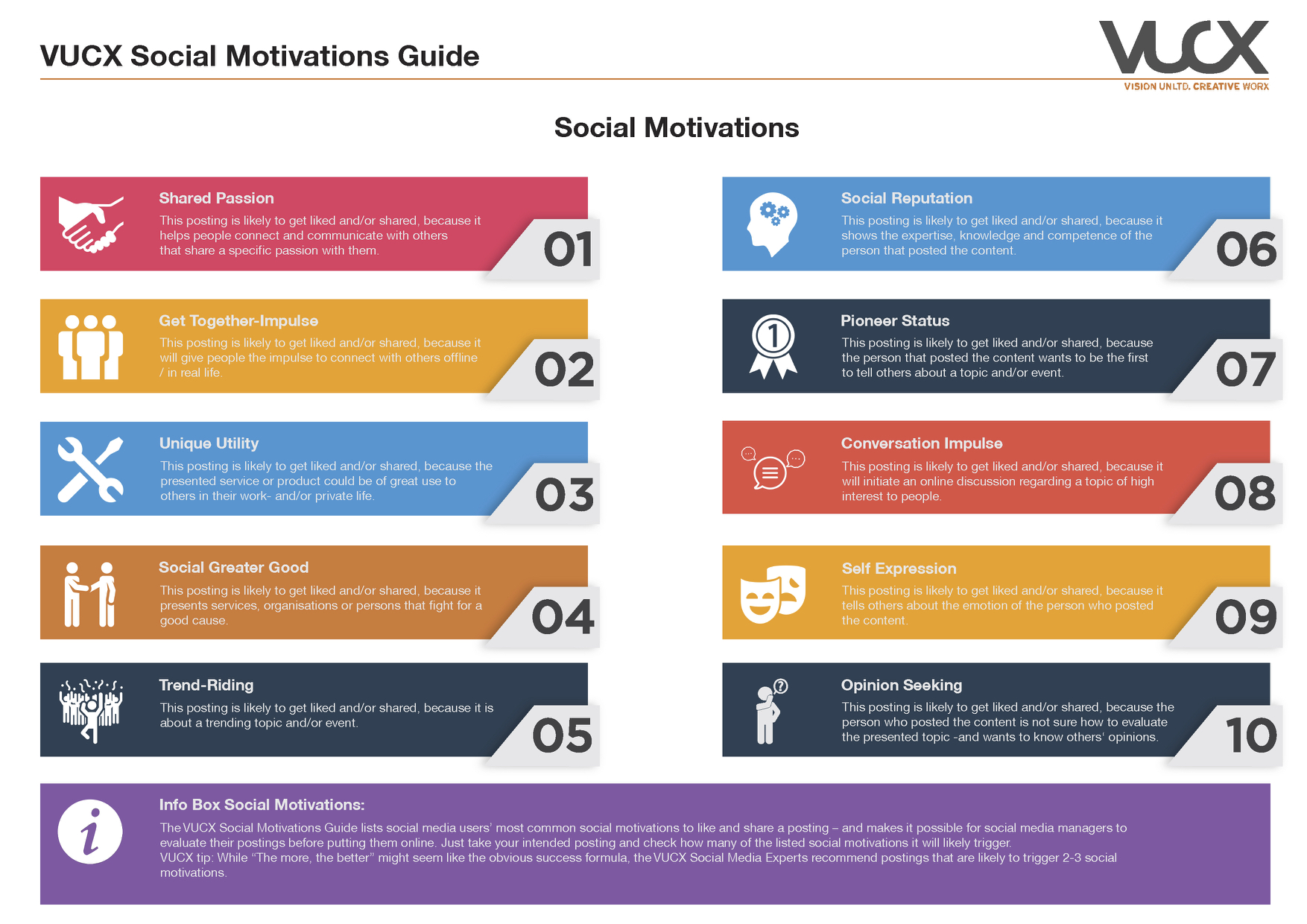 Social Media Marketing Checklist
Following is a short checklist for your successful social media marketing.
Be authentic
Utilize your social media presence to communicate your brand identity and values. Be honest and transparent, and avoid faking it or trying to be someone you're not.

Get involved with your community
Reply to comments and messages and encourage interaction with your followers. Show that you are interested in them and that their opinion is important.

Offer excellent customer service
Use social media to respond quickly to customer inquiries and complaints. Show that you care about your customers and that their satisfaction is important.

Create quality content
Publish interesting and relevant content regularly that is of value to your target audience. This could be blog posts, videos, infographics, or other types of content.

Be socially responsible
Show that you care about the issues and problems that matter to your community and society. Use your social media presence to draw attention to important issues and advocate for change.
By creating content that is of value to your target audience, you can capture their attention and build an emotional connection. By interacting with the community on social media, you can increase customer loyalty and become a #lovebrand.
Learn more about content marketing and how the VUCX social media experts can support you.
Social Media Agency Service Overview
Following is an overview of our services as a social media agency:
 
Social media strategy development
Developing a social media strategy involves identifying goals and target audiences and developing a plan for how to achieve those goals.
 
Social media style guide development
A social media design guide is a document that provides the visual guidelines for using images, videos, graphics, and other visual elements on social media. It defines how the brand should be presented on social media to ensure consistency and appeal.
It is important to have both a corporate design manual and a social media design guide. Social media requires a different style of communication and presentation than other marketing channels. A social media style guide ensures visual consistency on social media. It ensures that content on social media accurately reflects the brand and appeals to target audiences.
The fast-moving nature of trends on social media are an important factor when creating a social media design guide. Therefore, this should be reviewed and updated regularly to ensure that it is always up to date. It is important that the social media style guide is flexible enough to adapt to the rapidly changing demands of social media.
 
Social Media Advertising
Social media advertising is the placement of advertising campaigns on social media platforms such as Instagram or LinkedIn to increase the reach of posts and the number of followers.
 
Community Management
Community management involves interacting with and maintaining relationships with a brand's online community.
 
Content Production
The creation of content, such as texts, videos, photos and designs, is also part of social media marketing.
Learn more about Content Marketing here.
 
Social Media Monitoring
Monitoring social media platforms involves monitoring mentions of a brand and collecting feedback from users.
 
Reputation management
Reputation management refers to maintaining a brand's image in the media and on social media platforms.
 
Influencer Marketing
Influencer Marketing refers to working with influencers to share content and promote a brand.
 
Social Media analysis
The analysis of social media platforms and metrics helps to measure the effectiveness of marketing measures, to make recommendations for optimization and to generate important target group insights.
 
Customer service
Many companies also use social media platforms to handle customer inquiries and complaints. Our team can advise you on setting up FAQs and integrating chatbots, for example.
 
Social Selling
Social selling refers to the sale of products or services via social media platforms. The current trend is live shopping streams via Instagram, TikTok, Facebook and other platforms, which are particularly widespread in Asia.
 
E-Commerce
Integrating ecommerce features with social media platforms can help increase online sales of products. Our development team is experienced in dealing with integrations of ecommerce solutions.
 
Integration von Social Media in andere Marketing-Aktivitäten
Social Media leistet zudem einen wichtigen Link zu anderen Marketing-Aktivitäten wie beispielsweise Suchmaschinenwerbung oder E-Mail-Marketing.
 
Social Performance Marketing
Social Performance Marketing bezieht sich auf die Verwendung von sozialen Medien, um Werbekampagnen zu schalten und das Engagement mit potenziellen Kunden zu steigern. Es zielt darauf ab, durch gezielte Anzeigen und Inhalte auf sozialen Plattformen wie Instagram oder LinkedIn die Leistung von Marketingkampagnen zu verbessern und die ROI (Return on Investment) zu maximieren.
 
Social Media Workshop
Social Media Agentur oder Inhouse Social Media Team?
Es kann gute Gründe für ein eigenes Inhouse-Social-Media-Team geben, um die Bedürfnisse Ihres Unternehmens und Ihrer Zielgruppen entsprechend zu fokussieren.
Gerne unterstützt unser Social Media Agentur Team Sie in der Startphase durch entsprechende Workshops.
 
Whatsapp Messenger Communication & WhatsApp Messaging
WhatsApp Messenger Communication und WhatsApp Messaging beziehen sich auf die Verwendung von WhatsApp als Kanal zur Kommunikation zwischen Unternehmen und ihren Kunden.
Unternehmen können über WhatsApp direkte Kommunikation mit Kunden ermöglichen, z.B. um Fragen zu beantworten, Bestellungen entgegenzunehmen oder Support anzubieten.
WhatsApp kann auch als Marketing-Tool genutzt werden, indem Unternehmen gezielte Werbeaktionen oder Newsletter an Kunden senden.